Blog and News
Monday 26th April, 2010
a) Ben Nigel and Tarrant have once again been trapped in a tour bus with Frank Turner for 12 weeks.
b) then we were trapped in Los Angeles by an Icelandic Volcano.
c) now we are home and Jet Lagged.
d) the album is still finished. It hasn't become un-finished somehow while we've been away. This is good.
e) we are searching for a way to put it out that will give it a chance of being heard by the widest audience possible.
f) we are holding off emailing the list until we have more concrete news.
e) is for experience.
Tuesday 9th February, 2010
Album finished. Tarrant Ben and Nigel kidnapped by Frank Turner again. Trying to organise public dissemination of album. End communication.
Monday 14th September, 2009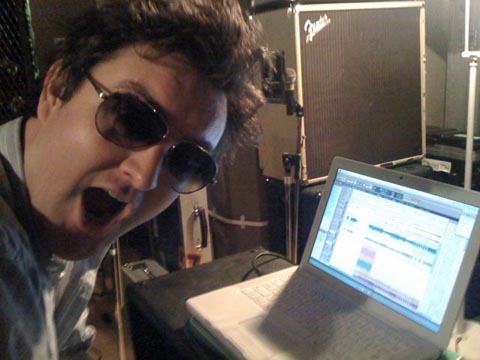 We're.......yup......I think we're mixing.
Sunday 28th June, 2009
We mentioned it before, but in case it passed any of you by there a couple of our rare gigs this week.

Tuesday 30 June - The Boiler Room - Guildford - Supporting Hold Your Horse Is
Tickets from WeGotTickets.com - over 18s only - 13 STOKEFIELDS, GUILDFORD, SURREY GU1 4LS

Wednesday 1 July - Bullingdon Arms - Oxford - Headline
Tickets from SeeTickets.com - over 18s only - Cowley Road, Oxford OX4 1UE

The album is slowly working its way towards completion. But surely.

Goodbye leggy blonde
Sunday 31st May, 2009
Bullet points:
- recorded an album with Frank Turner
- Ben re-amped bass guitars
- Jamie has done some of the lead vocals
- we have gigs coming up at the end of June
- Nigel wrote this
- hopefully Ben will come back with more details
Click Here For Older Blog Entries