Blog and News
Saturday 2nd May, 2009
Finished a four night sold out run supporting Frank Turner in Oxford last night. Since ol' beardy balls had sold out all the shows by himself we were happy to do all new songs, bringing out almost everything for an airing over the week except Pod People and Why Are You Back Again. Two sets a night was tiring, but satisfying.

Unlikely to do more on the album tracks over the next couple of weeks - more rehearsals with FT this week, and then a week in a studio laying down backing tracks for his new album - but after that we should have a little clear time to re-amp and vocalise the hell out of them. The rough mixes Ben's done sound pretty great already, especially Indifference that sounds HUGE.

nigel
Saturday 11th April, 2009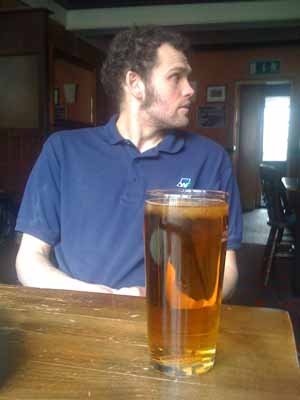 Thanks should go to Captain Tom of Oxford band Smilex - His guitar tone was once compared to the sound of the Batmobile starting up (Adam West's that is). He's also a qualified electrician and has wired the rehearsal space for light, heat and sound. He was well compensated for his efforts. Thanks Tom!
Friday 3rd April, 2009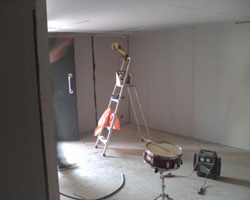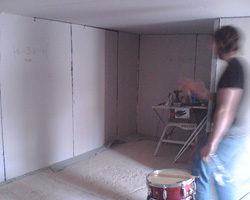 rehearsal room ready for flooring and the ubiquitous carpet on walls...
please note the child labour.
Thursday 2nd April, 2009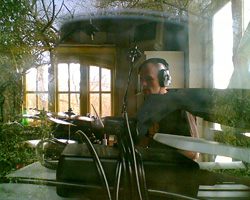 Not really another day of recording, just an update. We finished the basic tracking, but we've got to finish the building of the studio before we can start re-amping. So we're neck deep in rockwool and plasterboard and nails and screws and swearing. Should be finished within the week, then we can get on with it (in between rehearsing with FT). So there.

Written by Nigel!
Monday 30th March, 2009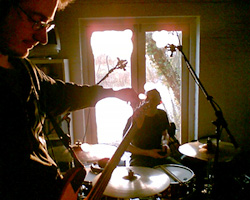 Click Here For Older Blog Entries
| |
Click Here For Newer Blog Entries